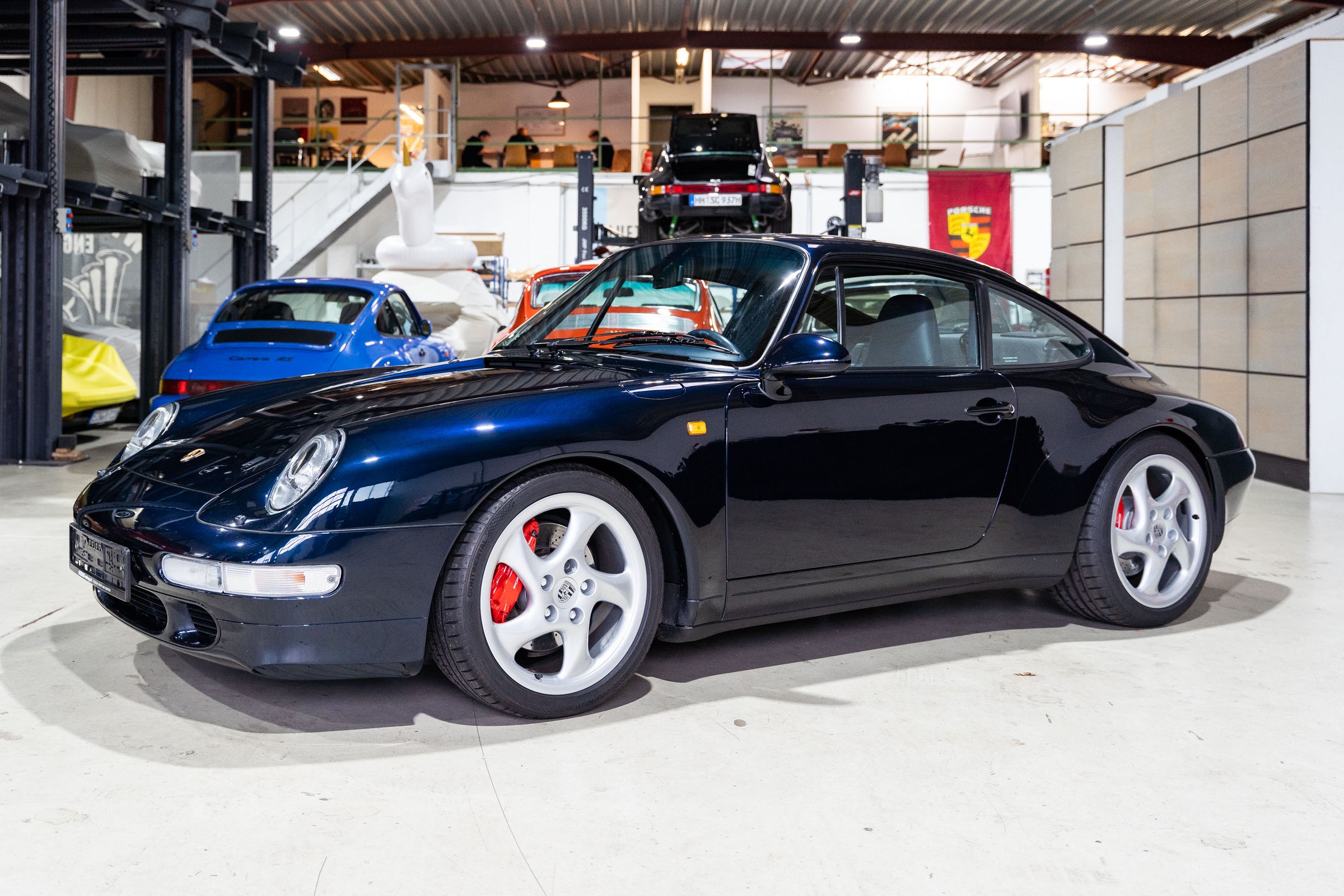 X51 Factory Performance Upgrade
The connoisseur spec: 3.8 l factory performance upgrade,
short ratio six-speed gearbox G50/21, turbo brake system and 18″ turbo hollow spoke wheels – all that in the elegant, narrow-body Carrera.
EUR 99,300
The car was completed in night blue (L39C) over blue full leather including the "Raffleder" option, on July 7th, 1995 and delivered to its first owner on November 19th, 1995 in the Porsche Center Ulm.
The core elements of the factory performance increase with a displacement of 3.8 l, which Porsche first introduced in 1995 under the exclusive special request no.
"X51" and which distinguishes this car are primarily the pistons, cylinders and camshafts from the 993 Carrera RS, which was available in the 1995 and 1996 model years.
Power was humbly specified at 285 hp, the use a sports exhaust system, which our example is also equipped with, was good for another ten hp. The "993 RS sound", with which the X51 subtly differs from the series 993 and that is courtesy of the camshafts, is noticeable for the connoisseur. Fun fact: The X51 engine, like the one in this car, uses the crankshaft from the 993 Cup, while the RS engine had to make do with the standard crankshaft.
The car is very well maintained and there is no deferred maintenance. The current owner is a plastic surgeon blessed with impeccable aesthetic sensibilities and high standards, and this is what the car looks like. For example, all the brake calipers were recently replaced because the old ones were faded and no longer matched the visual condition of the rest of the car. He also put the following in my ear, which sums it up well: This 993 conveys the "annual employee's car feeling".